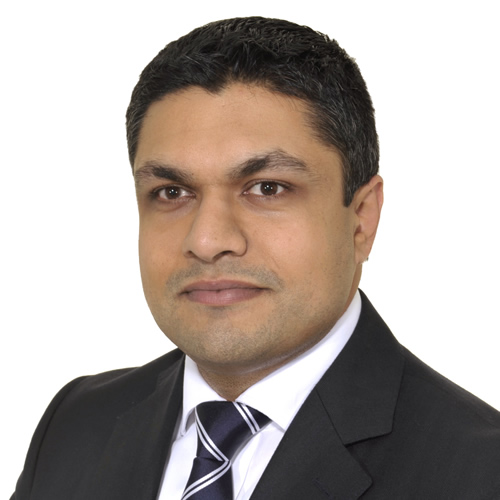 Mr Rik Kundra
MBBS(Hons), FRCS (Tr&Orth), MFSEM(UK), DipSportsMed
Consultant Orthopaedic Surgeon
Honorary Senior Clinical Lecturer (University Of Birmingham)
Rik Kundra is a specialist knee surgeon with extensive experience in knee surgery including ACL reconstruction, arthroscopic procedures, knee osteotomy and knee replacements (from partial replacements through to complex primary procedures) since his appointment as a Consultant in 2011.
Rik sees mainly adult patients with knee problems but does treat younger patients with patellofemoral (kneecap) problems. He treats sports injuries in athletes of all abilities, from elite professional to weekend warriors.
He has a specialist interest in managing the younger patient with knee arthritis as well as patients with kneecap-related problems.
He uses the latest, minimally invasive techniques and has particular expertise in the use of computer navigated knee replacements and all-inside ACL reconstruction.
He is involved in the development and evaluation of new surgical techniques in association with the major orthopaedic companies.
Training background
A graduate of Imperial College London School of Medicine, Rik completed basic surgical training in the Mersey Deanery. Higher surgical training was within the West Midlands at Birmingham and Coventry.
In addition to orthopaedic training, Rik also has qualifications in sports medicine and maintains membership of the UK Faculty of Sports and Exercise Medicine.
He completed two specialist fellowships at Sunnybrook Health Sciences Centre in Toronto – sports medicine and reconstructive knee surgery. These included working with elite athletes from the NBA basketball league.
He was appointed Consultant in Orthopaedic and Trauma Surgery at Walsall Healthcare NHS Trust in 2011 and maintains a busy and active NHS practice. In addition to clinical practice he has extensive teaching, training, development and research commitments.
Research and Development
Rik has authored multiple peer-reviewed publications in the field of knee surgery and his research interests include:
Clinical outcomes of ACL replacement
Partial Knee Replacement including patello-femoral replacement
Platelet-rich plasma injections for knee arthritis
Outcomes following computer navigated knee replacement
Collagen gel scaffolds for treatment of knee cartilage defects
Teaching and Training
Mr Kundra teaches on various aspects of knee surgery including demonstrating surgical techniques to visiting consultants, trainee surgeons and medical students. His various training roles include:
Training Programme Director (Core Surgery Orthopaedics) – Health Education West Midlands
Honorary Senior Clinical Lecturer (University of Birmingham)
Surgical Tutor, Royal College of Surgeons of England
Surgical Trainer for orthopaedic specialty trainees
Consultant to orthopaedic implant companies
Membership of Societies
Rik is an active member of the following societies:
British Orthopaedic Association
British Association for Surgery of the Knee
Royal College of Surgeons of England
Faculty of Sports and Exercise Medicine (UK)
ESSKA
American Academy of Orthopaedic Surgeons